Race wraps. For racers, by racers.
Demon Decals
Nations's Fastest Growing Full Service Sign Shop
*Race Wraps for Racers by Racers*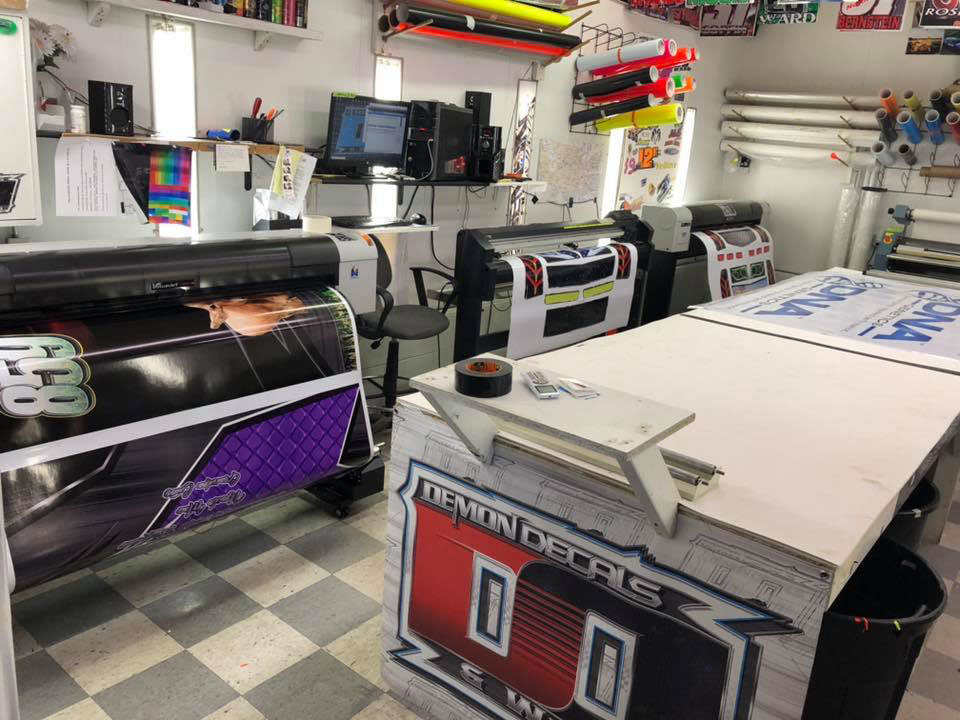 Demon Decals is a professional level business that will work to satisfy your visual communication needs.  
From designing a logo, to putting it on your business vehicle or building; from making custom business cards, to one of a kind websites, we've got you covered!  
Demon Decals works hard to understand your organization and your business model in order to present your company cleanly and professionally to your audience.
We intend to produce the most highly effective logos, signs, decals, business cards and other sales materials possible.
Full Race Wraps
Including Modified Sport Mod, BMod, Stock Car, Hobby Stock, Sport Compact Tuner, Late Model, Sprint Car, Wingless Sprint, Karts, Mod Lite, R/C Cars
Commercial Services
Logo Design, Door Logos, Signs, Printed Banners, Car/Crossover Wraps, Truck/Van Wraps, Enclosed Trailer Wraps, Bus/Camper/etc. Wraps, Window Wraps, Tailgate Wraps
Trucking/Derby
Lettering Kit, Fuel Tank Wraps, Graphic Kits, Semi Trailer Wraps, Semi Truck Wraps, Demo Derby Door Wraps, Demo Derby Roof Signs, Steering Wheel Wraps
Personal / boats / golf
Partial Vehicle Wraps, Full Truck/Van Wraps, Truck Accessory Wraps, Custom Stripe Kits, Full Car/Small Truck Wraps, Wheel Wraps, Boat Wraps, Golf Cart Wraps
Miscellaneous
Cornhole Boards, Wall DieCut Wraps, Winshield Visor Decals, Window Decals, Pulling Tractors, Helmet Wraps, Mailbox Wraps, Wall Murals, Door Wraps
Wholesale
Team up with Demon Decals for Wrap Material and Design
for organizations
Lettering Kits, Signs, Wraps, School Bus Kits, Printed Banners
Apparel / beverage holders
DTG Printed Shirts, Hoodies, Long Sleeves, Racerback Tank, Ladies Burnout, Tie-Dye Shirts, Crewnecks, Screen Print Shirts, Motorsports Artwork, Koozies, Headwear
Tracks / sanctioning bodies
Feature Winner Boards, Feature Winner Stickers, Sponsor Banners, Signs, Logo Design
Racer Packages
Several package options available include Wraps, T-Shirts, Artwork, Koozies, Banners, Overlays, Semi Wraps, Trailer Wraps, and more at a packaged price We throw a lot of different things at the Demon Decal team and they are always willing to help us complete our task and keep our sponsors happy, (And I message him a lot). Always very happy with the completed work.
-Denny W.
Do amazing work and take care of all our racing teams needs from the race car to the trailer to t shirts to give away items . Wouldn't go anywhere else.
– Bobby D.
You can throw different ideas and him and he goes out and beyond to make it look amazing. Sure does love his work. I love are race car wrap and t-shirts.
– Krista
Awesome products great prices will get all of my business
– Brandon K.